DailyAutoCare may earn a small commission if you purchase a product through one of our links (at no cost to you). Learn more.
Windshield scratches are a pain in the glass! They not only distort our sight of vision, but can also lead to full blown cracks over time. Once the windshield gets cracked, you will need to get it replaced to ensure that your vehicle is still safe.
Now, replacing a windshield can cost a lot of money and it's not something that you want to do. By the way, if you already have a chipper of cracked windshield, you can repair it before it gets bigger. Check out the windshield repair kits that we recommend on this site.
Back to the scratches. Can you really get scratches out of glass? Yes, you can. Good thing is that we can repair the auto glass scratches. Removing scratches from windshield, with the help of a few good products, is now easier than ever. Listed below are 10 glass scratch removers that work really well, and are cheap!
Windscreen Scratch Repair/Polishing Kit
One of the best scratch remove for the glass. It will easily remove light scratches, scuff marks and ugly surface marks which are caused by the wiper blades. Not only that, this product will also remove any water damage, lime scale and various types of stains from the windshield AND any other glass.
The kit is small, and is super easy to use. It was designed to be used as a DIY repair kit. Like other windscreen scratch remove kits, this one also requires you to have a corded electric drill.
This kit comes with easy-to-follow step-by-step instruction that you can use to set it up within minutes.
Before you use the compound and start buffing away, make sure that the windshield glass is clean. There shouldn't be any dirt on it. I would recommended that you wash the windshield with warm water, remove excess water with microfiber cloth. Once the windshield dries, then use the compound and grind all the scratches away. Initially, start with a small amount of compound and then use more as needed.
In order to use the kit, you need a corded electric drill with a speed of 1500-2000 RPM. if you have one at home, great! If you don't, Amazon has some decent drills that you can purchase online. Check out the link below if you need one.
Glass Scratch Repair – Professional GP-WIZ System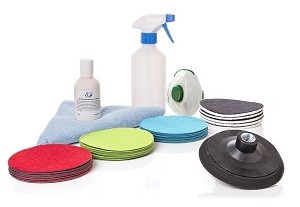 Here's another excellent product to repair windshield scratches. Not just windshield, it works on any type of glass on your automotive or anything else. It is also a very good deep scratch remover. Just make sure that the scratches are not actually chips or cracks, as that will cause further cracking of the windshield.
If you have a crack in the windshield, we suggest you take a look at the repair kits on our homepage. You can fix pretty much any length of crack at home using one of the kits listed there.
With this kit you can repair windshield scratches from wipers, graffiti scratches, welder splatter damage, hard water deposits and scuffs. This kit is used by glass polish technicians all around the world, so use it with confidence. It won't leave your glass with more scratches than what you started with.
Repairing scratches glass is now very easy with these simple to use kits. Windshield wiper scratch repair used to cost a lot of money when we had to take cars to the shop. But now, with the help of all these products that are available to use, we can easily buff the scratches out of the windshield.
As more products come to the market, and if they work better than the ones we have listed here, we will update them. In the meantime, if you have any product that you have tried and worked well for you, please feel free to let us know in the comments below. Thank you for reading!
Amazon and the Amazon logo are trademarks of Amazon.com, Inc, or its affiliates.