DailyAutoCare may earn a small commission if you purchase a product through one of our links (at no cost to you). Learn more.
If you live in an area where you get lots of snow, you know the pain of scraping ice off your windshield every morning.
Scraping ice and snow from your windshield every morning is not fun. It can take you extra 10-15 minutes to clear off your windshield. What if I told you that you don't need to do that anymore? You can save the extra time and do something else that you enjoy.
Let me introduce you to the windshield covers designed for that purpose in mind. You put them on top of your windshield when you park your car. And then take them off in the morning and drive away! You don't have to remove/scrape the ice and snow anymore.
In this article, we are going to look at some of the best magnetic windshield covers that are in the market. Our aim here is to share with you as much as we know about them so you could decide for yourself.
Our Top Pick – Mumu Sugar Magnetic Windshield Snow Cover
Mumu Sugar windshield cover is what comes to our mind when we think of protecting the windshield from snow. It's one of the best magnetic windshield covers out there because:
It's thicker – protects the windshield and the wipers.
Covers entire windshield.
Made from 4 layers of high-quality material.
Waterproof.
Built-in thermal shield.
Fits most vehicles.
One common problem that you will see with most windshield covers is that the they are not wide enough. They don't cover the windshield entirely and you are left with ice on the sides.
Mumu Sugar's windshield cover solves that problem. It's long and wide enough to fit most vehicles.
Another important feature of this cover is that it's quite thick (not very common). It provides a good protection for your windshield wipers.
This magnetic cover is made up of four layers of high-quality material: aluminum foil, cotton fabric, cotton and nonwoven material. This combination provides excellent physical properties.
This cover is frost-proof, ice-proof, dust-proof and sun-proof. It provides your car a good protection for all seasons.
Our Second Pick – Laptom Magnetic Windshield and Side Mirror Snow Cover
If the Mumu Sugar cover doesn't meet your requirements, we'll highly recommend Laptom windshield frost guard cover. Listed below are the reasons why this windshield cover is the second best in our opinion.
Material made up of 3 layers; PEVA, cotton and non-woven fabric.
Waterproof.
Temperature resistant.
Contains multiple elastic straps and magnets for a secure fit.
Universal size; 85"x50".
Comes with side-mirror covers
To protect the windshield from snow, ice and frost, most windshields need to be water and temperature resistant. Laptom's magnetic windshield cover meets this demand perfectly as it is built using a quality material.
It is made up of a 3-layer material composed of PEVA, cotton and non-woven fabric. PEVA gives is the waterproof ability, cotton provided resistance to low temperatures and the fabric underneath prevents it from sticking to the windshield glass.
It comes with four straps; two connect with a buckle inside your car and two hooks onto car wheels. Apart from the straps, it also contains four powerful magnets that ensure the cover will not be blown away by the wind.
The four magnets placed strategically in the cover and padded so they will not scratch your windshield or other parts of the car.
The size of this magnetic cover is 85"x 50" which makes it universal and fits most cars, SUVs and trucks. It also comes with two side mirror covers with reflective warning stripes on them to prevent collision at night. It's a good pick if you don't need any sun protection.
Our Third Pick – Britenway Magnetic Windshield Cover
Another magnetic cover that provides excellent protection from frost and ice is Britenway Magnetic Windshield Cover. It's made from a heavy-duty material that is also very easy to carry around.
Britenway will eliminate the pain of scraping ice off your car every morning. Similar to Mumu Sugar (our top pick), it also provides enough protection to both your windshield glass as well as the windshield wipers.
Windshield wiper protection is very important. If the wipers are covered properly, they won't clog the wiper fluid. Since this cover protects the wiper, we had to give it the extra points for our review.
The excellent combination of powerful padded magnets and the straps give this cover the ability to survive strong winds. Winds can not take this cover off easily.
It's made up of great material and won't wear or tear easily. It's very easy to install and take off and does the job well. They claim that it's good for the hot days as well. However, when we compare this ability with the Mumu Sugar magnetic cover, it falls short! For a year around protection, we suggest you go with Mumu Sugar.
Cheap and Effective – IceKing Magnetic Windshield Cover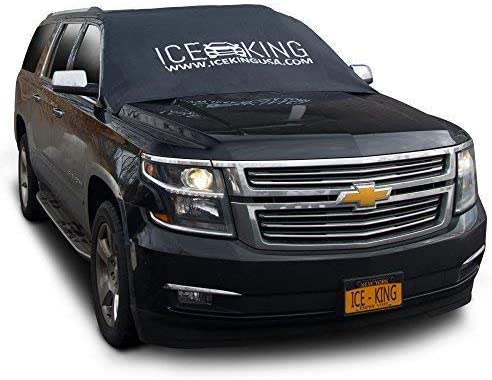 If you are on a budget and are looking for a cover that will provide good protection from ice and snow then this is the product for you. It's a universal size, 50"x70", and will nicely fit most vehicles.
Like the other covers we mentioned above, this one also comes with some good quality magnets. As a result, it keeps the cover secured on the windshield properly.
It also has security flaps on both sides as well as ties. These flaps are meant to be tucked into the door and they'll prevent anyone from stealing it.
When we compared the material of this cover to the other magnetic covers, we noticed that this one is not as durable. However, if you take good care of it, such are drying it off completely before packing it, it will last a long time.
Best Magnetic Windshield Cover for Sun
Out of the three windshield covers we listed above; Mumu Sugar provides good protection from sun. In the summer, you can install and use it the same way you would during winter.
It's built with quality materials. In particular, it consists of four layers of aluminum foil, spun laced cotton, warp and weft cotton, and white lining. This is good combination that provides protection from ice, snow, dust and sun.
Interestingly, people also use this magnetic cover in the autumn season. If you park your car near the trees that are shedding leaves during autumn, this cover will do a good job of keeping the leaves off your windshield.
Overall, this is a very good cover for windshield protection all year along. You will save a ton of time in the winter every morning.
What is the Purpose of Magnetic Car Covers and Why Should You Buy?
Listed below and the four commons uses of windshield covers.
Keep Your Windshield Clear Each Morning
You know how essential it is to have a clean windshield when driving; it's a must have for your safety on the road.
When your windshield is not covered, it accumulates all kinds of debris. Dirt from the air and fallen leaves just make things a lot worse. In such case, you'd either have to spend time and clean it physical. Or, if you are in a rush, you'd use the wiper fluid and wiper to clean the mess. It's going to take time.
When you are using a windshield cover to protect your windshield from all of that, you can save a lot time on cleaning.
Keep Your Windshield Free from Cracks and Scratches
A clear windshield that is free from scratches and tiny cracks is critical for safety on the road. When the windshield is protected with a cover, it can prevent ice build-up from damaging it. Depending on the season, if your car is parked near the trees, the combination of leaves, dust and wind can scratch the windshield. A windshield cover can protect from that.
If you have a cracked windshield, and the size of the damage is small, you can repair it yourself. Check out the best windshield repair kits here.
Keep Your Windshield Free of Ice and Save Time Scraping in the Morning
During winter months, if you leave your car parked outside, you know the pain of scraping ice off the windshield every morning. Even when you scrape it off with full speed, it may take you at least ten minutes or so.
Ten minutes are quite valuable in the morning. Imaging being able to sleep-in for another ten minutes. It is possible when you cover your windshield with a well-designed ice cover at night. A good ice and frost cover will ensure that the ice doesn't build up on the windshield. All you will need to do in the morning is take the cover off, pack it, throw it in the trunk and off you go.
Good Windshield Cover Will Protect Car Interior from UV Rays
UV rays are damaging to our skin and most of you know that. UV rays damage the interior of your vehicle the same way it damages your skin. Having a good windshield cover will block the harmful UV rays and prevent them from damaging the interior.
Conclusion
Magnetic windshield cover is a must have if you want to save time scraping ice off your windshield. It will protect your windshield from scratches, cracks and UV rays. It's very easy to install and take off every morning and you will drive with a squeaky-clean windshield each day. We have shown you the best magentic windshield cover for ice, frost, sun, and dust that are out there. Do you have a favorite windshield cover that isn't listed here? Do let us know in the comments below.
Amazon and the Amazon logo are trademarks of Amazon.com, Inc, or its affiliates.